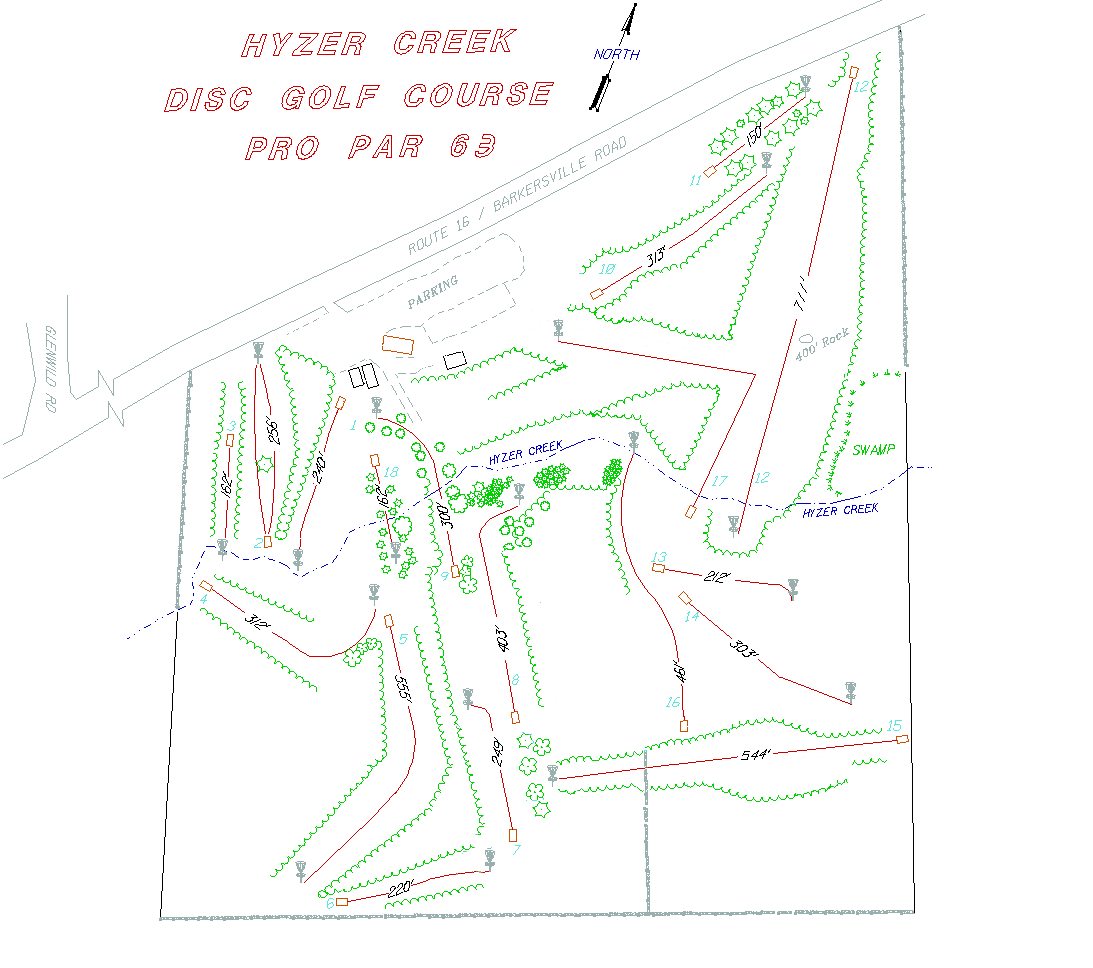 You will need this map to navigate the course. Tees are marked by orange numbers. To find your way from hole to hole, look for orange paint markings on trees near the pin and follow them to the next tee.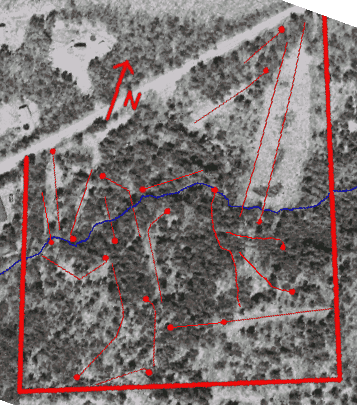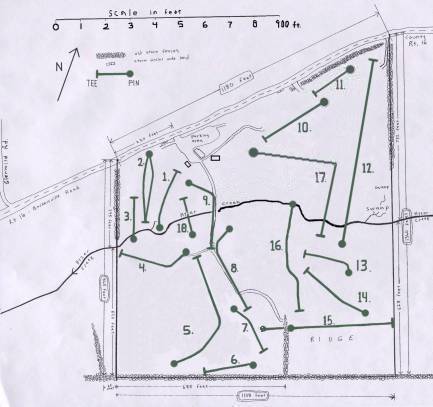 Aerial photo taken in April, 2004, when the course was not complete. Note the big piles of trees in hole 12's fairway which
still had not been burned.
Below aerial photo was taken in 2007, compare to the 2004 aerial view: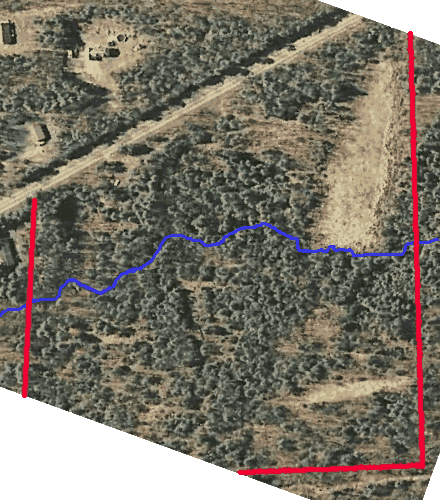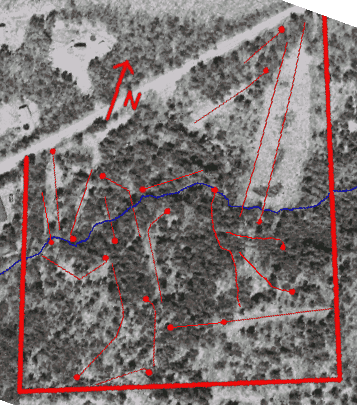 Click here to download your score card
Total course length 6177 feet, par 63.
Under 200 feet 3 holes 3, 11, 18
200 to 300 feet 5 holes 1, 2, 6, 7, 13
300 to 400 feet 4 holes 4, 9, 10, 14
400 to 500 feet 2 holes 8 and 16
500 to 600 feet 2 holes 5 and 15
600 to 700 feet 1 hole 17
700 feet or more 1 hole 12
Hole description
1 is a downhill shot, short (240 feet), but you must negotiate a 30 foot elevation drop. The pin lies at the center of an oxbow of Hyzer Creek. It's a birdie opportunity. Aced by Bobby Jones and Drew Dorman.
2 is a lot harder than it looks. Even though it's only 255 feet, the pin is at the top of a 30 foot hill. Almost anybody can throw 255 feet, but can you get to the top of the hill for the birdie? The bottom gives you par. The fairway is wide open so you can really crank and not worry about any trees except for the big pine right in the middle. Right handed people can hyzer to the right of it and lefties can crank left of it. Or, people can do turnover shots on the opposite side, or sidearms. Many options, fun hole. Possible ace for the big arm, birdies are common for pro players, but rare for ams. Aced by Greg Hoffman in tournament play.
3 is an ace run. A very short hole across Hyzer Creek, but right before the disc goes over the creek it has to clear an 8 foot gap between two trees. If you clear the gap you will make birdie, or even an ace, but if you hit one of the trees you'll be in the creek for OB. People love to get aces, here's your chance, and this hole gets aced all the time. Aces in tournament play by Nibs Carter, Rob Tatro, and Roger Gagnon.
4 is an uphill woods shot with a very difficult birdie op from the landing zone. Most experienced players will get a 3 or 4, very difficult 2. Although it's a par 3, it is very rarely birdied in tournament play.
5 This 555 foot hole starts with 250 feet of uphill, staying tight around a long gradual right turn, then dropping downhill, tight all the way. Pro average scores in tournament play is over 5, and it's only been 3'd a few times in tournament play. According to the stats it's a par 5 hole.
6 is a short uphill lefty hole, or a righty sidearm. You should be able to get a 2 on this hole often. Aces in tournament play by Mark McGarrity and Brad Harris.
7 goes downhill and left, fairly easy hole and 2's are common. It has been aced but not in tournament play.
8 is a par 4 hole. Starting with a 313 foot downhill shot to the gap of a right dogleg going down a 90 foot green in the woods, good negotiation of the drop in elevation and finding the gap just right will set you up for the 3. Getting a 2 is very difficult and has only been done a few times in a tournament (Sean Healy, Dan Hastings).
9 is an "over the valley" shot, it goes down a 30 foot drop, over the creek, and back up 30 feet again and up a pine fairway to the left. Easy shot if you make it, but if you miss the fairway your disc drops 30 feet down into the valley for a difficult recovery shot. This is a hole for righties. If you are left handed you need to use a side arm. Most pros play to the left of the big hemlock for the direct route to the basket, amateurs play to the right of it for the par. Recently opened up to make it a true par 3 instead of 3 ½.
10 is an uphill shot to test your arm. It's a routine 3 but it really takes a pro to get a 2 here.
11 is a 150 foot ace run. Tight tunnel about 15 feet wide all the way up a hill.
12 is a 711-foot par 4 hole. It goes 611 feet down a 60-foot hill to a creek, then back up another 100 feet to the pin. You must aim DOWNHILL to stay in the fairway. Too many people aim straight at it and hyzer way left when they go nose up in the sky. To get a 3, you have to go long and stay in the fairway from the tee and make a good 2nd shot. The fairway is 150 feet wide but people miss it all the time! Mike Broderick combined a 565-foot tee shot with a 146-foot putt to get an eagle 2 during a tournament.
13 is an ace run for lefties (or righty sidearm) but has never been aced though many have come close. It has an elevated pin so watch the roll back.
14 is uphill and bends slightly left for the par 4. Its not all that hard to 3 for the birdie.
15 is a flat straight long hole for big arms. In 2011 it was increased to 544 feet and par 4, formerly 414 and par 3.
16 Woods all the way, 25-foot-wide fairway with several turns for 461 feet, and the pin sits in the middle of Hyzer Creek. Lots of people get 6 and 7 on this hole and think they did well. This is the hole that is illustrated on the main page of the web site. It's a par 5 to reflect the 5.5 average tournament scores for pro players. Only two eagles have ever been made on this hole in tournament play (Kurt Waggoner and Ken "Tank" Franks).
17 Originally (2005) went 705 feet up the hill to a pin near 12's tee pad. Many complaints from golfers resulted in a short 200-foot "new 17" (2007) in the woods. But that was always swampy, and many attempts to drain it failed, so "new new 17" (2012) was created. Tee shot from the original 17 tee pad, to the 300-foot rock (back of 12's 400 foot rock), and then dogleg left another 325 feet to the pin for a par 4. The hole favors right handed players from the tee and lefties on the dogleg.
18 is a piano string tight, over-the-valley hole. It has been aced 4 times (Craig Cutler, Matt Alberghini, and Greg Kurtz twice).
m19